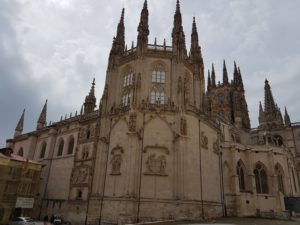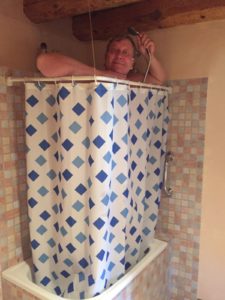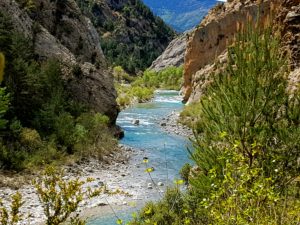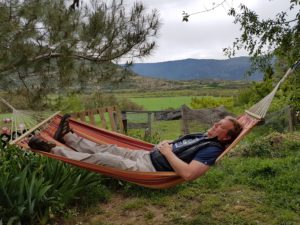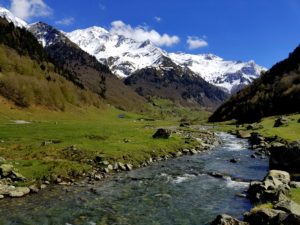 24-4-17 Back on the road again! We'd crossed the border from Portugal into Spain within 20 minutes, so, of course we sung a few verses of ' Viva Espana', before putting Gypsy Kings on the music system. We've enjoyed Portugal, despite our set-backs, but we were really looking forward to getting back on Spanish soil. The language is much easier to understand, the food is better, and we were both looking forward to exploring more of Northern Spain. The road to Burgos, crossing the high green plateau of Castille-y-Leon, was uneventful. Quite a boring drive compared to the journeys we've done so far. However, the city of Burgos was a lovely surprise. The apartment was lovely- our first and only city flat- and our host, Mirian, was warm and welcoming. She warned us, as we arrived in our shorts and flip-flops, that the gorgeous weather we were experiencing was " NOT NORMAL!" We did wonder why such a small flat had so many heaters and blankets. We were soon to find out! The only disappointment was that there was no WiFi- again! That evening, we walked the 15 minutes it takes to get to the centre of this small city- and wow!     The riverside is edged with a tree-lined promenade, which was buzzing with people, parading and chatting in bars. The main plaza was also busy with tourists and buskers, all dwarfed by the size of the enormous cathedral. We wondered if it was some special saint's day or something, rather than a normal Monday evening, but now realise that they were simply making the most of the unseasonably warm weather. VIVA ESPANIA, HAPPY DAYS. TALK ABOUT BEING UNDERDRESSED, EVERYONE WAS OUT IN THEIR SUNDAY BEST PROMENADING UP AND DOWN AND THERE'S ME IN SHORTS AND A TEE SHIRT. WITH EVERYONE MUTTERING AND POINTING AS WE WALKED BY. (THERE IS A PATTERN FORMING WITH THIS!!!) AWKWARD. 25-4-17 The heatwave was over! Freezing cold and raining this morning. Luckily, we had planned to 'do' the cathedral today, so, wrapped up warm, we spent a lovely couple of hours exploring this beautiful building. It really is marvellous! I really don't have the words to describe how impressive it is, so I hope the photos will do a better job. Let's just say, it's the best of the 3 we have seen so far; definitely better than the much larger cathedral in Seville. ANOTHER CATHEDRAL…. HOWEVER BEST ONE YET. STILL NOT DONE CONFESSION YET. APPARENTLY A 3 DAY STOPOVER ISN'T GOING TO BE ENOUGH TIME FOR ME TO CONFESS MY SINS……. DRESSED FOR THE EVENING PROMENADE- APPARENTLY IT'S TOO COLD FOR THEM TO COME OUT AS THEY DID THE PREVIOUS EVENING….. NOT MADE OF STRONG STUFF THIS LOT!!!! 26-4-17 Our last day in Burgos. It really is a lovely city, but it's tiny, so a short visit is perfect. We found out that the next location we are heading to is experiencing snow, so we took the time to do some shopping for warm clothes for Steve. May I point out here that I had already packed enough warm clothes, not being the eternal optimist that my old man is. All I can say is that shopping for a 6ft4in man with a 50in chest is not easy in the land of small people! We did eventually find him an item of clothing which will be forever known as the "Spanish Cardigan". Latre look out. Esteban is on his way!!! VERY LIMITED SUPPLY OF CLOTHES FOR ME TO TRY. HOWEVER MANAGED TO GET SOME CLOBBER. MAYBE I CAN NOW BLEND IN AND GO BACK TO BEING A GREY MAN AGAIN. IT MAY STOP THE POINTING AND MUTTERING. (STARTING TO GET A COMPLEX NOW.) 27-4-17 What a long journey! We passed through 5 provinces/ regions today. From Castilla-y-Leon, we skirted the edges of Rioja (shame), passed through Pais Vasco/ Euskadi (Basque country), then Navarra and finally into Aragon. The landscape just got more and more stunning as we travelled. I really have run out of adjectives to describe it. Anyone wanting to know what to buy me for my birthday- maybe a thesaurus? We had to skip around Pamplona, which is a shame, as I've always wanted to visit, but the drive was long enough without a stop off. As we travelled, the weather deteriorated into snow and sleet, before we emerged into glorious sunshine. Our new home is the best yet. A tiny stone cottage in a village with a population of around 15, at the end of a road which is 8km from the nearest main road. The closest town is Sabinanigo, which is about 20km away. Absolute tranquility, with views which look like a painted backdrop. The cottage itself is warm and cosy, with stone walls, wooden beams, a wood burner, well-equipped kitchen and comfortable bed. Result! The owners are lovely and friendly- a Spanish man and his half Spanish- half American wife. The dog has decided we are his best friends and what with the cats and chickens, it's like we're living in an episode of The Good Life. Except, there's WiFi! Only if you sit in the bathroom, of course, but we've had no way of contacting the outside world for ages, so all is well. FACEBOOK ON THE BOG….. NO NOT I. HOW VERY UNCOUTH. LOVELY COTTAGE, I COULD LIVE HERE. HOWEVER I WOULD HAVE TO RAISE THE SHOWER CURTIAN. 28-4-17 On advice from our host, Nina- who brought us freshly laid eggs from the chickens that wander around the garden, so I already love her- we started our exploration of the area by heading straight up to the High Pyrenees! Apparently, today was going to be the best day for clear skies. Wow, wow, wow, wow!! Spectacular. Magnificent. Awe-inspiring. There, that's it, I really don't have the words. Thank goodness for Facebook, so that we can post the pictures, which of course, don't really portray the sheer size of these mountains. Steve, of course, was in his element, driving his new love- the Shogun- through the winding mountain roads. This is the part of the trip he's been looking forward to the most. And around every bend in the road a new breath-taking vista awaits- from azure-blue lakes, to babbling brooks, to tiny Alpine-style villages, to huge, snow-capped peaks………… Awesome. It made me feel quite emotional- what a wuss! Eventually, we arrived in Portalet- a strange mini town, part ski resort, part shopping outlet, which sits on the Pyrenean border between Spain and France. The shopping outlets have sprung up because the French drive here to buy cheap booze and food, so we stocked up on some essentials. Why, I don't know, since we are already in Spain, but hey-ho! We decided to push on into France; even though we will be staying in several places in France which are in the Pyrenees, none are in quite this area. The descent into France was less dramatic in terms of scenery, but more dramatic if you count the difficulty of driving the tricky mountain roads. There were plenty of squeaky bum moments, but two were particularly sobering. The first was coming across a young man who had lost control of his motorbike on a bend. We found him laying on a verge, just 2foot from a huge drop- what a lucky bloke!   Steve and the Dutch bloke in the car in front stopped to help. Of course, they were worried about him and any possible injuries (Secretly, I think Steve has wanted an opportunity to use the tourniquets and other first-aid items he has in his stash); but, equally predictably, the lad was only concerned about his bike. Luckily, all was well and they helped him get back on the road- only to pass us later, going too fast yet again! Sadly, less than half an hour later, we came across 2 French Gendarmes, guarding the scene of a crash where a small white car was upside down in a ditch, while the driver (obviously dead)  on the opposite side of the road. Thank God Steve is such a careful driver. Anyway, it seemed a good idea to turn around and head back to sunny Spain. And the difference in temperature was quite marked- 6 degrees in the mountains, compared to 17degrees back at Latre. STUNNING SCENERY…… I HAVE NEVER SEEN ANYTHING SO… SO… FANTASTIC. I DON'T HAVE THE VOCABULARY TO DESCRIBE THE PYRENEES. I JUST KEPT SIGHING AND STUPIDLY SMILING. BOOZE RUN…….. I WANTED TO TRY TO RE-ENACT SMOKEY AND THE BANDIT, WITH A CAR FULL OF BOOZE AND A BIT OF A CAR CHASE ACROSS THE PYRENEES BUT THE LOCAL OLD BILL WERE TOO BUSY. SOME OF THE PEOPLE HERE ARE "MUCHO LOCO" AT LEAST THAT'S WHAT I TOLD THE POLICE WHEN THEY TURNED UP. THEY DRIVE FAR TOO FAST ON THE TWISTING ROADS AND FAR BEYOND THEIR CAPABILITY. AFTER THE TWO ACCIDENTS WE WITNESSED, I TURNED INTO CAPTAIN SLOW FOR THE REST OF THE RUN. KNOB HEADS!!!!! 29-4-17 A day to chill! It was cloudy and cold, so we built a fire, did some washing, admin and – for Steve- playing with the dog. The stupid mutt follows him everywhere, and rolls over to be tickled whenever you speak to him. Steve also had his first opportunity to mess around with his drone. I think it's best I draw a line under that subject. POXY DRONE AND POXY IPAD. "TALK TO EACH OTHER PLEASE."  GOOD JOB I DIDN'T HAVE ACCESS TO A 12 BORE I WOULD HAVE BLASTED THE DAMM THING OUT OF THE SKY. AT ONE POINT I LOOKED LIKE JOHN CLEESE AS BASIL FAWLTY WHEN HE SHOUTS AT HIS CAR FOR BREAKING DOWN AND THEN GIVES IT A "DAMN GOOD THRASHING" THE LOCALS HAD GOOD REASON TO POINT AND LAUGH AT ME TODAY. SPENT THE REST OF THE DAY SULKING……. THAT IS ALL. 30-4-17 Another chilly, overcast day, so on Nina's advice, we went to visit a 10
th
Century castle in Larroe, near Huesca. It was amazing- especially if you are history geeks like us. From Lord of the Rings, we were suddenly transported to Game of Thrones. Set high up on a hill, towering above the plains below, where the Moors would have been settled, is this fantastic castle. It's been used as a film set before, in Radley Scott's Kingdom of Heaven.
http://turismo.hoyadehuesca.es/en/el-reino-de-los-mallos/turismo-cultural/castillo-de-loarre
Geekiness satisfied, we headed home to find that, in return for some drone footage of the cottage, Nina had brought us a home-made quiche and some freshly laid eggs from the chooks. I find it a bit disconcerting when they flock around me when I'm hanging washing on the line, but their eggs are fabulous! CASTLE GREAT….. POXY DRONE GRRRRRRRR. THAT IS ALL OVER AND OUT!!!!!!!!!! 1-5-17 I can't quite believe it's May, and we're into our 6
th
week of travelling. However, standards have slipped over the last few weeks and the time had come for a bit of maintenance –not the car- my hair! So, with the help of my colourist ( well, who doesn't bring one with them when they're on tour?), I transformed my greying, straw-like dreads into shiny locks again. Then, off to the mountains again. This time to Ainsa, a medieval town in the Mid-Pyrenees. The scenery was magnificent! The river Aragon was the main attraction- it crashed over huge boulders and carved its way through the stunning valley. I went off on a little recce and scared Steve half to death ( like I'm not a natural intrepid explorer!), so I got a bit of a telling off. The town of Ainsa is lovely. A quaint old town, which is towered over by Mont Perdito. Tapas in its shadow was a very memorable experience. This evening, we went out for dinner ( 2 meals out in one day? Blow the budget, it was the eve of our 30
th
wedding anniversary) in Jaca ( say HAKKA) and had fabulous, authentic Spanish fare. VIDAL SASSON!!!!! EAT YOUR HEART OUT….. BLEEDING DODDLE THIS HAIR COLOURING MALARKY. WHACK A BIT OF JOLLOP ON HER BARNETT JOB DONE……….OH APPARENTLY I'M A BIT HEAVY HANDED, WELL, I DO HAVE THE DELICATE PAWS OF A BLACKSMITH. IF YOU SAY YOU ARE JUST GOING TO POP DOWN THE TRACK AND HAVE A QUICK BUTCHERS TO SEE IF THE SCENERY IS ANY GOOD. JUST POP DOWN THERE!!!! NOT WANDER OFF FOR 30 MINS WHERE I HAVEN'T GOT A CLUE WHERE YOU HAVE GONE. ESPECIALLY WHEN THERE ARE 100 FOOT DROPS INTO A RAGING RIVER BELOW YOU. LET'S FACE IT YOU ARE NO MOUNTIAN GOAT AND NOT AS AGILE AS YOU USED TO BE!!!!!! OH AND YOUR SENSE OF DIRECTION IS LEGENDARY. PUBLIC BOLLOCKING OVER MY, LITTLE SWAMP DUCK XXX. REALLY CRACKING FOOD TONIGHT. HOWEVER I DON'T THINK THE LOCALS UNDERSTAND THAT SOME OF US BRITS DO NOT LIKE SITTING DOWN TO A 3 COURSE MEAL AT 10.00 PM. I UNDERSTAND IT'S ALL TO DO WITH THE TEMPERATURES IN THE DAY TIME AND EARLY EVENING BUT REALLY!!!! I HAVE TO BE IN MY JIM-JAMS BY 10.30. UNLESS OF COURSE IT'S A BOOZE UP THEN THAT'S A DIFFERENT STORY. 2-5-17 Happy Anniversary to us! 30 years ago today, we stood in Peckham registry office, a silly pair of kids, and pledged to love one another for ever, in sickness and in health. Well, we've stood by those vows, and I still love the daft old bugger as much as ever! And, true to form, we had a Leithy day. The plan was to spend the day sitting on a mountain top, looking down on the world, having a picnic. In fact, this part of the trip had been planned for just that reason. In reality, the weather was shite! So cloudy that we wouldn't have been able to see each other, let alone the world.  So we decided to stay in front of a roaring fire and get pissed instead. Well, it's worked for 30 years! BEST LAID PLANS AND ALL THAT! NEVER MIND… A ROARING FIRE AND SHARING A BOTTLE OF RED WITH YOUR BEST MATE AND LOVE OF YOUR LIFE. WATCHING THE CLOUDS ROLL BY AND LISTENING TO THE RAIN AGAINST THE WINDOWS, CHILLING OUT. A GREAT WAY TO CELEBRATE YOUR 30TH WEDDING ANNIVERSARY. (SOMETIMES IT'S THE SIMPLE THINGS IN LIFE. THAT ARE THE BEST THINGS.) YEAH I KNOW SOPPY OLD GIT. OFF TO THE COSTA BRAVA TOMORROW- Oh, we do like to be beside the sea-side……………..