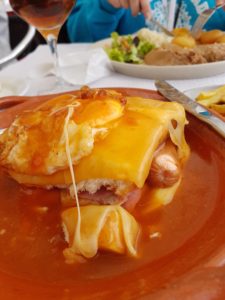 17-4-17 Time to move on. Off to Porto today. First, Steve had to pick up my multiple prescription, given by the hospital. We were expecting a mega-sized bill, as there were 4 items on the prescription, and we couldn't believe our luck that we hadn't been charged for my hospital treatment- apparently it would have cost us a fortune if I hadn't been brought in by ambulance. Luckily, the whole lot only came to 22 Euros- we thought we were going to have to re-mortgage the house! However, our drugs bag- already bulging with 6 months' worth of our prescription drugs from the UK- is now threatening to explode! WHAT A TOUCH……… HAPPY DAYS. The landscape changed once again as we travelled North; the dramatic cliffs of the coast and the gently rolling hills became quite flat again for a while, before we began to see huge, densely forested areas and wide rivers slicing through the land. We arrived in Miramar- just 8km from Porto- at about 2pm. It's a genteel resort, with wide avenues and large, gated villas, alongside smart apartment blocks. The residents are either retired folk or well-paid workers who work in Porto. We're just 50m from another amazing beach- not as dramatic as Fos, but a wide, long sandy expanse, which stretches for miles. A long, wooden boardwalk makes it really accessible and protects the small dunes and associated wildlife. Camber Sands could learn a thing or two. The apartment was tiny! Just 20 square metres. We've stayed in bigger caravans. I was reminded of the old Les Dawson joke about his Mother-in-Law ("She was so fat, that where-ever she sat, she was sitting next to you.") However, it was spotlessly clean and the owner- "You call Armando, and what you want, Armando get."- was so friendly and accommodating. LOVELY PLACE MIRAMAR, THE CARAVAN, SORRY APARTMENT WAS A BIGHT TIGHT ON SPACE. ERR UNDERSTATEMENT OF THE YEAR. GOING TO THE LOO WAS GREAT FUN. WHEN TAKING THE SEATED POSITION, IT WAS ALMOST AS IF I WAS ATTEMPTING TO KISS THE WALL OR IF I WAS CARELESS I ENDED UP HEADBUTTING THE WALL……. 18-19/4/17 I was still pathetically weak and my bowels still weren't robust enough to stand up to city sightseeing, so we set off to explore the local countryside of the Douro valley region. And it's beautiful! With no particular destination in mind, we set off on one of our "Shall we turn left or right?" drives, and on a whim, we found a gorgeous valley, where the river cascaded over the rocks. The next couple of days were spent soaking up the sunshine on the gorgeous beach: chilling, reading and recuperating. Perfect! BEACH, BLINDING, SUN SEA AND A FREE EXFOLIATION BY WIND WHIPPING UP THE SAND INTO A SANDSTORM. (STILL IT SORTED OUT MY COMPLEXION, IT GAVE ME A RUDDY GLOW FOR DAYS-ONCE THE BLEEDING STOPPED. Evenings were spent in a couple of lovely restaurants- you may have seen the facebook pics of our Lobster extravaganza. Mmmmmmmmmm! All accompanied by a spectacular electric storm. Happy days! LOBSTER!!!!!! BIGGEST ONE IN THE PLACE. (MRS LETHAL FORGOT THAT THE RESTAURANT SELL THEM BY THE KG!!!!!!) £££££ KERRCHING, I BET THE FELLA DIDN'T HAVE TO OPEN UP THE NEXT DAY. IT WAS TASTY THOUGH. 20-4-17 Finally- a day sightseeing in Porto. Driving around cities is not our idea of fun, so we got the train from our local station for the 15min ride to Sao Bento station. If you've ever watched the Michael Portillo TV programme "Grand Continental Railway Journeys", you may have seen the impressive tiled entrance hall to this station. Beautiful blue and white tiles depict Porto's history. I wonder if they should add some new tiles, showing our experiences there- first me having an argument with a Portuguese woman who was convinced that I was Spanish, however many times I responded to her in English. She thought I was just being awkward and eventually flounced off, swearing at me in either Spanish or Portuguese- I had no way of knowing! I never did find out what she wanted. Next, Steve was approached as soon as we walked out of the station by a man trying to sell him an enormous bag of weed. Obviously, he refused. God, we're getting old! JUST SAY NOOOOOOOOOOOOOOOOOOOOO. Porto tumbles down a large hill to the Douro River, so we walked down through the city to the riverside district- Ribeira- which is full of restaurants, coffee and pastry shops, higgledy-piggledy old houses, painted in pastel colours, and a flea-market. The famous iron bridge spans the river, with the port wine cellars lining the opposite bank- Gaia. We spotted lots of familiar names, such as Taylors, Sandemans, etc, but unfortunately, we didn't have time to do a tour. We did stop off for lunch, where Steve tried the local speciality of a Fransciscina. I'm sure he'll explain. IMAGINE A FRIED BREAKFAST- SAUSAGE, EGG, BACON, PORK CHOP AND BLACK PUDDING, ALL CHOPPED UP, SANDWICHED BETWEEN  TWO HUGE SLICES OF TOASTED BREAD, THEN COVERED IN MELTED CHEESE AND THEN SPICY TOMATO SAUCE POURED OVER THAT AND THEN A FRIED EGG ON TOP OF THAT. GOOD JOB I'M ON STATINS! Now we faced the task of tackling the steep hill back up to the top part of the city, where there are apparently some amazing views. At which point, I suggested the tram (Also spotted on the Michael Portillo programme) to get us back up there. FAIL! It doesn't go through the city. Instead, it follows the river down to the estuary. Although it was a pretty area, we were now miles from where we needed to be, and I for one was all walked-out (still now 100% fit). Luckily, we were able to get a bus back in time to catch our train home. I love using public transport in foreign countries, as you get to see things you'd never get to see when driving. It's nice for Steve to have a break from driving too, especially as we have a long drive ahead of us tomorrow. BUS, TRAM AND TRAIN WANKERS!!! THAT'S US. J 21-4-17 Off to the wilds of NE Portugal today. It didn't take long to pack: we hadn't really had space to un-pack! So, we left the Douro region and headed off into Tras-os-Montes, which translates to The Land Beyond the Mountains. The landscape in this area is truly beautiful. The closest I can get to describing it only works if you have seen the Lord of the Rings films- because it's just like The Shires. Rolling green hills, turquoise rivers and streams, tiny villages of stone houses…. I was already loving it…….and then we arrived at our destination, Milhao, near Braganca…….or Hobbiton! Our new home for the next few days was a round, stone built cottage on a cobbled street, in a tiny village of about 20 similar homes. There was a tiny church in front of us, from which the church bells rang an intricate melody every 15 minutes from 7am til 10pm. Beside the church was the village stork's nest post ( these are seen everywhere in Portugal and Northern Spain). It was lovely to watch the parents (enormous!) feeding their 3 chicks and encouraging them to fledge. What with the bats whizzing around at night and the wolves howling from the surrounding countryside- YES, I DID SAY WOLVES- NO KIDDING! – We didn't need TV. Which was just as well really, because the price we paid for living in this rural idyll was a complete lack of communication with the outside world! No WiFi, no phone signal and only 3 static filled TV channels (which doesn't bother us, as we haven't watched TV since we left home.) The inside of the house was fantastic. Really quaint; with lots of authentic furnishings and not a single scrap of IKEA in sight; but still having the essentials, which we have come to realise means, for us, a washing machine, a comfortable bed that Steve doesn't hang out of and a good shower that, well, that Steve doesn't hang out of! An added bonus was the cellar, which contained a pool table and a pre-stocked bar. We were in heaven! WOLVES………… FOR THOSE OF YOU KNOW ABOUT MY HOWLING LIKE A WOLF IN THE MIDDLE OF THE NIGHT. (IT ONLY HAPPENS OCCASIONALLY. ONCE IN A BLUE MOON, OK FULL MOON!) ME JULIE WAS THINKING ABOUT LOCKING ME IN THE CUPBOARD UNDER THE STAIRS, IN-CASE I TRIED TO GO OUT IN THE MIDDLE OF THE NIGHT RUNNING WILD, WITH MY BROTHERS!!!!! THE LOCAL CHURCH BELL….. GOOD JOB IT STOPPED WHEN IT DID, I WILL LEAVE IT AT THAT. STUNNING PART OF THE WORLD THOUGH I WOULD HIGHLY RECOMMEND IT TO ANYONE. 22-4-17 A trip to nearby Braganca. This is a medieval city, set within the walls of an old citadel. Very impressive, but very small, so we had time for a second excursion, to Rio de Onor; a tiny village, which straddles the border between Portugal and Spain. This was very quaint, and a real eye-opener, as the people who live there are living in, what seems to us to be abject poverty, but they still gather together in family groups and seem very contented with their simple lives. To a large extent, the same is true in the village we are staying in: the people spend a lot of their day collecting basic provisions: water from the spring, potatoes from the communal allotment, eggs from the chickens, sticks and logs for their fires… But we have been greeted every day by big smiles and     "Bon Dia!" They wave us off every time we head off and welcome us back with "Bon Tarde." In between, several of the old ladies (usually head to foot in black) chat away to us, regardless of the fact that we can't understand a word they're saying, nor they us. We're like the entertainment and main source of gossip for the week; although goodness knows what they make of our huge car and the mountains of cases and bags we have with us. We're probably carting more possessions around Europe with us in our car than the entire contents of all the houses in the village. It does make you think about what you really need. I NEED LOADS OF STUFF!!!!!!! (YEAH I'M AN OLD BRASS J.) I GOT USED TO THE LOCALS NUDGING EACH OTHER AND THEN POINTING AT US. (RUDE!!) 23-4-17 Our last day in Portugal, and we spent it driving around the countryside. It really is the most beautiful place we have been so far. The Montesino National Park is on our doorstep, so we've explored its forests, rivers, mountains and lakes, along winding roads, past ancient ruins and through tiny villages. More than once, we've had to slow down to a crawl, as whole herds of cattle are led from field to farm. We have become used to the huge storks, eagles, kites and vultures circling overhead, but we haven't been lucky enough to catch sight of the deer, wild boar and wolves that we know are in the area. This afternoon, we spent a lazy couple of hours sitting by the side of a huge lake. Despite being miles from the coast, we plotted our chairs up on a sandy beach and chilled. Even though it was a Sunday, there were very few people around, and those that were stayed in an area on the other side of the lake, with play areas and restaurants. We spent our last evening in Portugal drinking Macieira (Portuguese brandy- lovely!) by the fire and setting the world to rights. Off to sunny Spain tomorrow- Viva Espana! LOVELY WAY TO END THE WEEK, WISH I HAD MY FISHING GEAR WITH ME THOUGH J
NOW DEAR READER, LET ME GIVE YOU A QUICK HEADS UP ON THE PORTUGESE MOTORWAY ROAD TOLL SYSTEM. (RANT COMING ON. SORRY.)
WHEN I GENNED UP ABOUT DRIVING OUT HERE I CHECKED ALL THE RELEVANT WEBSITES INCLUDING THE SPECIFIC COUNTRIES AND DIFFERENT REGIONAL ONES. WELL PORTUGAL IS AN EFFIN NIGHTMARE!! I REGISTERED WITH THE AUTO PAYMENT SYSTEM OR SO I THOUGHT. THE EMAIL I RECEIVED SAID THAT THE MOTOR WAS REGISTERED ON THEIR SYSTEM AND MONEY WOULD AUTOMATICALLY TAKEN, FROM THE PRE-PAY VOUCHER £60 QUIDS WORTH AND I SHOULD CHECK EVERY WEEK TO SEE IF IT NEEDED TOPPING UP. SO I HAD BEEN HAPPILY DRIVING THROUGH THE VIA VERDI GREEN TOLL GATES AND LAUGHING AT ALL THE OTHER PEOPLE (AND MUMBLING TOLL GATE WANKERS J AS YOU DO.) WELL I DID CHECK AT THE END OF THE WEEK AND ONLY A FIVER HAD BEEN TAKEN FROM THE ACCOUNT. RESULT I THOUGHT, THE TOLLS ARE REALLY CHEAP OUT HERE!!!!! AFTER DOING THIS FOR 3 WEEKS I THOUGHT I'VE ONLY SPENT £20 QUID AND I HAVE DONE HUNDREDS OF MILES, THIS CANT BE RIGHT. IT BLOODY WASN'T………… FOR YOUR INFORMATION DEAR READER, PORTUGAL HAS 4 DIFFERENT SYSTEMS IN OPERATION.
THE AUTO SYSTEM THAT READS YOU NUMBER PLATE FROM THE OVERHEAD GANTRIES.
THE VIA VERDI SYSTEM THAT USES AN E-TAG SIMILAR TO THE DARTFORD CROSSING SYSTEM. (THE ONE I HAD BEEN USING.)
THE TAKE A TICKET AND PAY AT THE NEXT TOLL BOTH SYSTEM (THE ONE I SHOULD HAVE BEEN USING APARENTLY. YEAH ALRIGHT STOP SNIGGERING)
LASTLY, ANOTHER SYSTEM WHICH IS USED FOR 2 OTHER SEPARATE MOTORWAYS IN THE MIDDLE OF NOWHERE. (I EFFIN HOPE.)
NOT SET UP TO CONFUSE ANYONE IS IT?
NOW IF YOU DON'T PAY THE TOLLS WITHIN 10 DAYS THE COMPANY/GOVERNMENT AUTOMATICALLY FINE YOU. THIS IS NORMALLY 10 TIMES THE COST OF THE TOLLS YOU HAVEN'T PAID……. THE ONLY WAY TO CHECK IF YOU OWE ANY MONEY IS TO ENTER YOUR INFO ON A WEBSITE. HOWEVER THE SYSTEM WILL ONLY INFORM YOU IF YOU OWE ANY UNPAID TOLLS AFTER 15 DAYS SO IT'S AUTOMATICALY TURNED INTO A FINE…… (HOW CAN THEY GET AWAY WITH THAT I HEAR YOU ASK? WELL THEY JUST DO, IT'S AN UNFAIR AND PISS POOR WAY OF RAISING MORE REVENUE. NOONE CAN DO NOWT ABOUT IT. THE LOCALS HATE IT.) I ESTIMATED THAT I PROBABLY OWED ABOUT £80.00 – £100.00 IN TOLLS. WHICH NOW HAS BEEN TURNED INTO ABOUT £1000.00 FINE. ROBBIN GITS. (GOOD JOB I REGISTERED THE MOTOR IN JULIES NAME. I SAID "SOD EM I'M NOT PAYING ANY FINES. YOU CAN DO A BIT OF BIRD. IT WILL ONLY BE A COUPLE OF DAYS -A WEEK AT THE WORST- YOUR TOUGH ENOUGH BABE J   Who says romance is dead? What a charmer! HOWEVER TO CUT A VERY LONG STORY SHORT, I ONLY PAID £80.00 IN FINES/UNPAID TOLLS. HOWEVER THE PREPAY CARD WAS STILL £40.00 IN CREDIT AND THEY WOULDN'T GIVE ME A REFUND. SO THEY KEPT THAT. SO THE MORAL OF THE STORY DEAR READER IS STOP AT THE TOLL BOOTH AND GET A TICKET. OR TURN OFF THE MOTORWAY BEFORE THE AUTO TOLLS AND TAKE A BACK ROAD. IT MAY ADD SOME TIME TO YOUR JOURNEY BUT YOU MAY HAVE A MUCH LESS STRESSFUL JOURNEY.