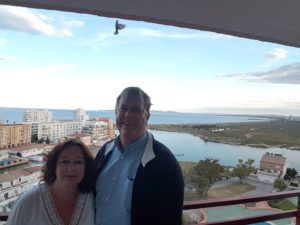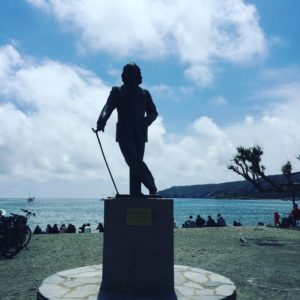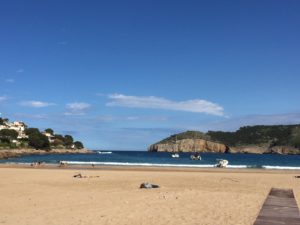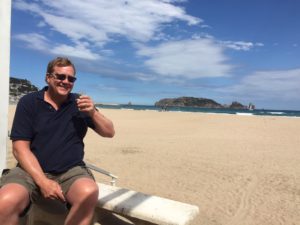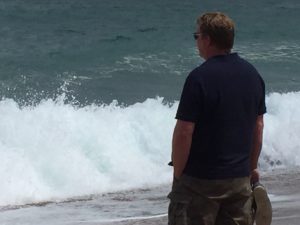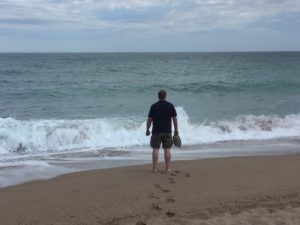 3-5-17 After a final Adios to our hosts and Rocky, the Galician Shepherd dog, who has stolen Steve's heart,   ( He thinks I didn't hear him trying to persuade the dog to jump in the boot and come with us), we set off on the long drive across the width of Spain to the Costa Brava. The day was grey and cloudy as we passed out of Aragon and entered the huge province of Catalunya. Just like when we entered the Basque region of North West Spain, the dual-language signs and flags make it very obvious just how important it is to the people of the region that they are different from the rest of Spain. However, where the written Basque language looks Eastern European, Catalunyan is very similar to French. DEAR READER; I'VE GOTTA GET A DOG ……….. THAT IS NEARLY ALL …….. "I KNOW" SAID SOME BRIGHT SPARK. "LET'S CONFUSE EVERYONE WITH THE SPANISH LANGUAGE, LETS MAKE IT REALLY DIFFICULT LIKE THE BASQUE SPANISH." (WHICH LOOKS LIKE BLOODY WELSH AS IT HAS NO BLEEDING VOWELS!!!!!!) LET'S CHUCK IN SOME EFFIN FRENCH THAT WILL REALLY BUGGER PEOPLE UP…. REALLY?????? THANKS FOR THAT. It was raining when we approached the Costa Brava, but the area is very pretty; dominated by pine forests. Steve enjoyed the winding roads on the approach to the coast, but was less keen on the motorway madness on the main coastal road, especially the hundreds of foreign lorries, trundling into nearby France. ( We're staying close to the border again- I hadn't realised before, but we seem to have booked lots of stops on the borders between countries). "MUCHO LOCO!!!" THAT IS ALL. We're staying in Roses, a famous resort, on the Northern Costa Brava.  It's a 10
th
floor apartment; great view, small but well equipped, mostly with IKEA again. It seems very strange to be staying in a tourist resort, even though it is out-of –season; but very nice to be able to choose from a multitude of cheap restaurants for dinner. I HAVE NEVER EXPERIENCED LIVING IN A HIGH RISE……. AS OUR LUKE HOWITT WOULD SAY; IT'S NOT FOR ME, I KEPT FEELING GIDDY WHEN I WENT OUT ON THE BALCONY THE FIRST FEW TIMES. I SOON GOT USED TO IT THOUGH. ONLY PROBLEM WAS THE BLOODY SEAGULLS KEPT LANDING ON THE BALCONY RAILINGS. (THESE GULLS ARE HUGE.) I ENDED UP HAVING TO GIVE A COUPLE OF THEM A RIGHT HOOK, AS NO AMOUNT OF SHOOING THEM AWAY WORKED. THEY JUST SQUAWKED AT ME AND CALLED THEIR MATES OVER, TO TAKE THE PISS OUT OF ME, FLAPPING AND WAVING MY ARMS ABOUT. (SWEARING DOESN'T WORK EITHER, I'M SURE THE PEOPLE AROUND US THOUGHT I HAD TOURRETTES.) FOR THE RECORD, I NO LONGER LIKE SEAGULLS. 4-5-17 After a morning of catching up on chores (washing the car for Steve, tackling the top-loading machine to do the washing for me- oh the glamour of this touring lark!), we set off for an afternoon on the beach. MY COLLECTION OF BUGS ON THE FRONT OF THE MOTOR IS NOW BIGGER THAN THE NATURAL HISTORY MUSEUMS. (I ALSO THINK I MAY HAVE DISCOVERED A FEW NEW SPECIES.) EAT YOUR HEART OUT ATTENBOROUGH. The wind is very chilly in May on the Costa Brava, but we're a hardy pair and the beach was deserted, so we settled down for a spot of reading. We managed a couple of hours, before another couple came along and plotted up not 100ft from us. I thought this was a bit strange, since there was about 3 miles of deserted beach for them to choose from. WELL!!! Within 2 minutes, the bloke had stripped naked and was posing. Don't know why he bothered- it was VERY chilly! Yes, you guessed it- we'd set up on a nudist beach! EYE – EYE!!! MY WORDS TO JULIE WERE, "STRUTH THAT BLOKES GOT NO CLOTHES ON!" WELL IN FOR A PENNY IN FOR A POUND, I THOUGHT I'M IN AND 'AVIN IT!!!! …… NO I WASN'T APPARENTLY!!! I TOOK THE BOLLOCKING ON THE CHIN AND PUT MY STRIDES BACK ON. JULIE WASN'T HAVING THE OLD WHEN IN ROME AND ALL THAT. SULKED FOR THE REST OF THE AFTERNOON. 5-5-17 and 6-5-17 We had a couple of cloudy days, so spent them exploring Roses and Cadaques. Both are fishing villages close to the French border, which I had heard were stylish and was keen to visit. They are very different. The best analogy I can think of is that, if they were both ageing film-stars, Cadaques has aged beautifully; with its harbour full of fishing boats, fantastic tiny restaurants, art deco houses, classy shops and a small plaza, overlooked by a statue of Salvador Dali; the most famous resident. In contrast, Roses has become fat and bloated; the marina is full of huge gin-palaces, hundreds of shops selling the same old tat; the restaurants are flashy and overpriced, and botoxed ex-pats, dressed in sequinned hot-pants walk their dogs along the beach. DISAPPOINTED WITH ROSES, HOWEVER I FITTED IN QUITE WELL. (BEING SLIGHTLY FAT AND BLOATED.) ALLTHE WAITERS THOUGHT I WAS AN AUSSIE, WHATS ALL THAT ABOUT? We had hoped to visit the Dali museum in Figueres, but every time we tried to get tickets, which could only be bought online, they had sold out. SHAME ABOUT THE TICKETS, FANCIED A BIT OF CULTURE. 7-5-15 We spent the day searching for the best beaches, driving along the coast roads. Some of our favourites were:
Begur/Pals-
very difficult to get to, through a maze of winding residential streets, but worth it for the long, sandy beach.
L'Estartit-
lovely and wide, with a nice harbour.
St Antoni/ Palamos-
a place I hadn't been to since I was a child. So very different now, at least 10 times bigger. Gorgeous beaches, but impossible to park! PARKING……. NO BLEEDING CHANCE. SO IN LIGHT OF NOT BEING ABLE TO PARK…. I DROVE UP THE PROMENADE, APPARENTLY I WASN'T ALLOWED TO DO THAT, ACCORDING TO THE LOCAL OLD BILL.   I WONDERED WHY PEOPLE KEPT WAVING AT ME….          I THOUGHT…. COR THEY ARE REALLY FRIENDLY HERE. WRONG AGAIN LETHAL, MY BAD.
Cala Montgo-
our favourite; a beautiful little horseshoe-shaped cove. NO NUDISTS, NEVER MIND…… NICE PLACE THOUGH. 8-5-17 and 9-10-17 Now we had found the best beaches, the sun came out, so we spent a couple of days being beach bums. It seemed strange after our other travels; in fact it felt like being on holiday for the first time. In fact, the most exciting thing that happened was Steve getting a lovely slobbery kiss from a  Staffordshire bull terrier. He had his headphones on, so didn't get any warning. Very funny! BLOODY DOG, SCARED THE LIFE OUT OF ME!!! THOUGHT MY STRAWBERRY WAS GOING TO FALL OFF ITS HOOK. Yay! I finally finished the last of my medication from the hospital! It marks a new beginning. We're off to France tomorrow for our longest stay of the trip; 3 and a half weeks in Ceret, in the Pyrenees. It's going to be strange to be in one place for so long. We may even unpack our cases! Looking forward to spending time with family and friends. It's been 7 weeks since we left home on our trip. We're not sure how we're going to cope with talking to other people again, but we've both missed our girls so much and can't wait to see everybody. And of course, they'll be helping me to celebrate my milestone birthday. There may be quite a gap before the next blog! We're sad to be leaving Spain. But Vive le France! FAREWELL SPAIN…….. AS ARNIE WOULD SAY;   HASTA LA VISTA……. "I'LL BE BACK."